From 18.115 SEK p.p.
Stay in Sweden's most primitive hostel
Meet the moose, king of the forest
Spend 1 night in a bear hide
Descend into a 500 year old silver mine
Camp in a wolf pack area
Discover Europe's densest wilderness on foot
Central Sweden and especially the provinces Västmanland, Dalarna and Gästrikland are a paradise for nature lovers. This region is underdeveloped when it comes to tourism, making it the ideal place to relax and to be one with nature. You will spend your 12-day holiday in Europe's densest wilderness, an area with an abundance of wildlife such as brown bears, moose, wolves, beavers, lynxes and countless bird species. During this trip, the emphasis is on learning about and observing wildlife, while staying in some very charming small-scale B&B's.
Route 12 day wildlife tour Central Sweden:
Day 1 to 4: Ramnäs
Day 5: Skinnskatteberg
Day 6: Korsån
Day 7: Järbo
Day 8 to 12: Skinnskatteberg
Day 1: On your own you will travel to the first B&B in the middle of the forest. There you will have a fully equipped house at your disposal, located on a sheep farm in the middle of wolf territory. Upon arrival I will welcome you and give you a lot of information about what to experience in the region. You will also get topographic maps and books with detailed one day walks for use during your stay. You are free to do what you want for the rest of the day.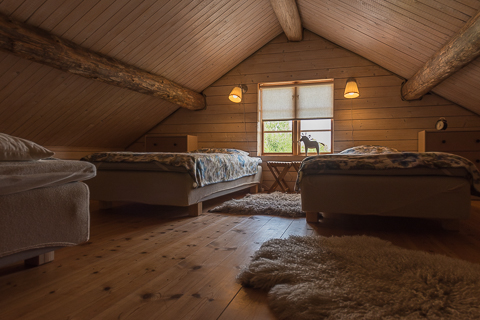 Day 2: Today we go out together. In the morning we will visit a 500 year old silver mine and have lunch there. In the afternoon I will take you on a walk in one of the beautiful nature reserves of Västmanland. Halfway through the walk we will enjoy a well-deserved coffee/tea break.
Day 3: Today you can visit the medieval city of Arboga, the oldest Swedish water action park Kokpunten, the cider and apple juice tasting in Köping or one of the many other attractions in the region. In the evening you have an exciting activity planned. At that time you will go out to spot the king of the forest, the moose. First you will walk through an ancient forest, the guide will explain you everything there is to know about these impressive animals and their environment. Afterwards you will enjoy an outdoor meal by the campfire and later in the evening you will join the guide in search of these animals from a minibus. This excursion lasts 5 hours, return is late at night.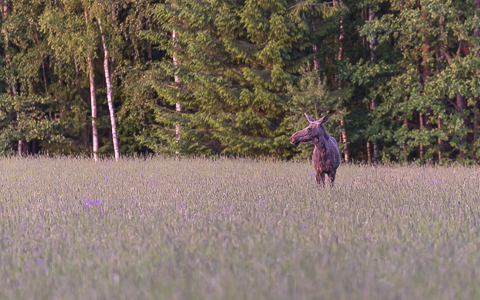 Day 4: On day 4 of your vacation you have a canoe at your disposal for up to 6 hours. Lunch, snacks and a detailed map will be provided. If you prefer not to go canoeing by yourself, you can do this together with a guide who will teach you everything about the beaver and its habitat, this activity takes about 4 hours. From the water you are more likely to spot wildlife, because you are making less noise than if you would approach the animals on foot.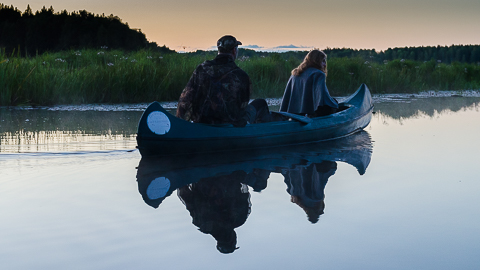 Day 5: You have to check out from your holiday home before 10 am. In the late afternoon you will be expected at a unique location in the woods. Tonight you will spend a night in Sweden's most primitive hostel. A charming charcoal hut awaits you in the forest of Skinnskatteberg. More than that you cannot expect, there is no electricity and no running water. Imagine yourself falling asleep next to the crackling fireplace and waking up by the beautiful songs of the birds. Silence and wilderness surround you and offer you the chance to cut your own wood or feast on blueberries that you can pick in the area. You can also enjoy a visit to the floating sauna or rent canoes.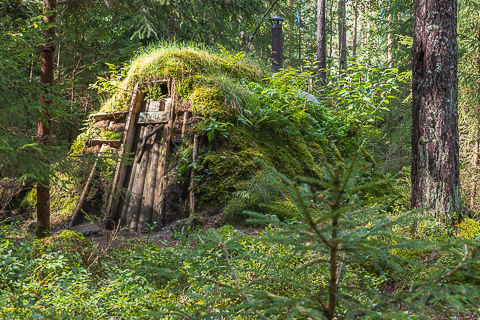 Day 6: After your stay at this unique location you must travel onwards to the province of Dalarna. On your way to the next B&B you can visit the cozy city center or the copper mine of Falun, the latter has been recognized by UNESCO as world heritage site. Not only the underground tour is interesting, above ground there is also a very instructive museum. After this you travel further to your next accommodation. In the middle of the woods an infinitely charming inn, located in a small hamlet, awaits you. The comfort is rather basic but the environment is like waking up in an enchanting dream. The rest of the day you are free to enjoy your holiday, you will certainly be able to relax in such an overwhelming natural environment.
Day 7: On day 7 of your holiday you can walk around in the breathtaking area that surrounds the B&B. The pristine forests around Korså Bruk are teeming with wildlife and you can easily bump into a moose, beaver or bear. Swimming in the vast lake offers you a chance to enjoy the surroundings and with a bit of luck you can see an osprey flying above your head. In the afternoon you will start your next, extremely exciting activity. At 15h you are expected in Järbo, there you will learn all there is to know about bears and your upcoming stay in the bear hide. An open sandwich and coffee/tea will be offered and around 16.30h you will be transported to the hide in which you will stay overnight. You are going to spend a very exciting night in the hide, you will mostly see birds and squirrels. If you are quiet enough you will also see wild brown bears. In 2019 the success rate for seeing bears was 85%.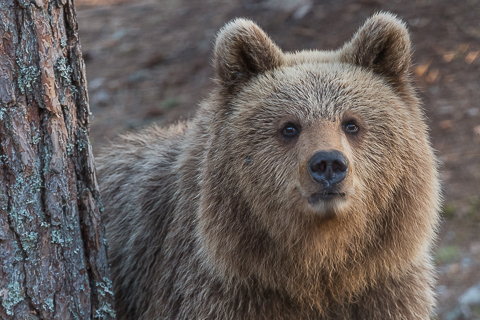 Day 8: In the morning at 8 o'clock you will be picked up by the owner of the bear hide and you will be offered a breakfast buffet in her photo gallery. Hopefully you will have a lot to talk about when it comes down to your experiences from the previous night. A stay in the bear hide is tiring because you have to alternate to sleep so that someone always stays awake to spot bears. With a successful evening you will have hardly seen your bed. If needed you can rest in one of the guestrooms or use the bathroom to freshen up before you travel back from
the province of Gästrikland to the province of Västmanland. Once you've arrived in Skinnskatteberg you can check in at the B&B where you will stay until the end of your holiday.
Day 9: Today you can go hiking in one of the many nature reserves of Västmanland. Would you rather admire the king of the forest from up close? Then you should not miss a visit to the Gårdsjö moose park. Or just enjoy your holiday with a glass of wine or juice and a good book, after all it's your vacation.
Day 10: On day 10, you start the most exciting activity of your trip, the wolf safari, shortly after noon. Please note that you must have had lunch before the wolf safari starts at 13:00.
An evening out in wolf territory is a fascinating experience that you will remember for the rest of your life. For many visitors it is the highlight of their visit to Central Sweden. The chance of seeing a wolf is not very big, the chance to hear wolves cry is considerable. During this excursion you will travel in small groups both on foot and by minibus through one of the many wolf territories of Sweden. You have a good chance of seeing wolf tracks and feeling their presence. Because you can never learn enough about wolves, an expert will share his knowledge during this wolf safari. In the late afternoon you will put together the tent camp. In the evening you will enjoy an outdoor meal by the campfire. When the evening falls you will go closer to the wolves to increase the chance of hearing them howl. You must be prepared to walk for an hour through unspoiled terrain, often in the dark, in silence. After all you must do an effort to be able to spend time in the habitat of these imposing animals.
Hearing wolves howl is one of the most exciting natural experiences you can have. Although your guide can not guarantee that this will happen, wolves were heard on most tours.
In the evening you will return to the tent camp to sleep.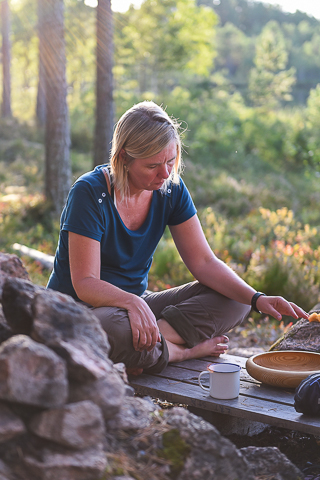 Day 11: In the morning you get a cup of coffee or tea and a snack. Depending on the successes during the night and the location of the wolves, the guide will decide if you must get up early for a short morning stroll. After this you will break down the tent camp and return to the civilized world where you will enjoy a well-deserved brunch. This activity ends at 12 o'clock. You are free for the rest of the day. A tip: the Malingsbo-Kloten ecopark is very close to the B&B: you can go for a walk, spot wildlife or take a last dip in one of the lakes before leaving Sweden tomorrow.
Day 12: Unfortunately, your journey through Central Sweden has come to an end but I'm sure you enjoyed it. It's time to return home, believe me, the first days you will have to get used to the daily busy life again. But I assume that you will start the following day with a lot of energy.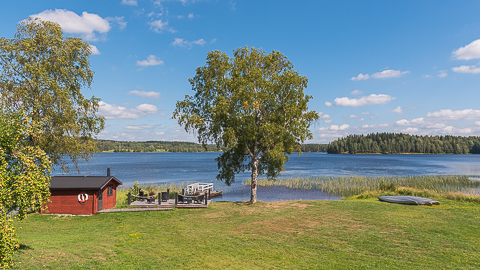 Price details 12 day wildlife tour Central Sweden:
Travel duration: 12 days / 11 nights
Travel costs: from 18.115 SEK per person
Included: overnight stays including breakfast, mentioned excursions, mentioned meals